Think Secret Garden vibes, a little mini orchard feel, and a fairy-like meadow full of winding paths and surprises, and you're in Kim Kardashian's flourishing garden. Rich and lush, Kim wanted the most local, organic herbs and produce she could find for her own farm-to-table experience. This little garden perched on a hill in her yard was designed to be climate-conscious and bursting with life for her and her family—while donating any excess top-tier organic produce to food banks.
Originally, Kim came to Heart Beet Gardening with a vision of creating a citrus orchard at the top of her backyard hill. When she realized she could grow veggies and tons of both local and tropical interesting varietals using permaculture and regenerative farming techniques, the plan quite literally blossomed into the bounty it is now.
The main concern, not only for Kim but for the farmers at Heart Beet Gardening, was to be aware and respectful of the farming zone and climate. One of the knowledgeable gardeners, Jad, tells us, "Urban farming benefits the planet because it minimizes our carbon footprint by omitting the transportation of food from farms to packing houses, to the grocery store, then to our homes. It's also a wonderful experience for the kids to pick sun-ripened, organic food."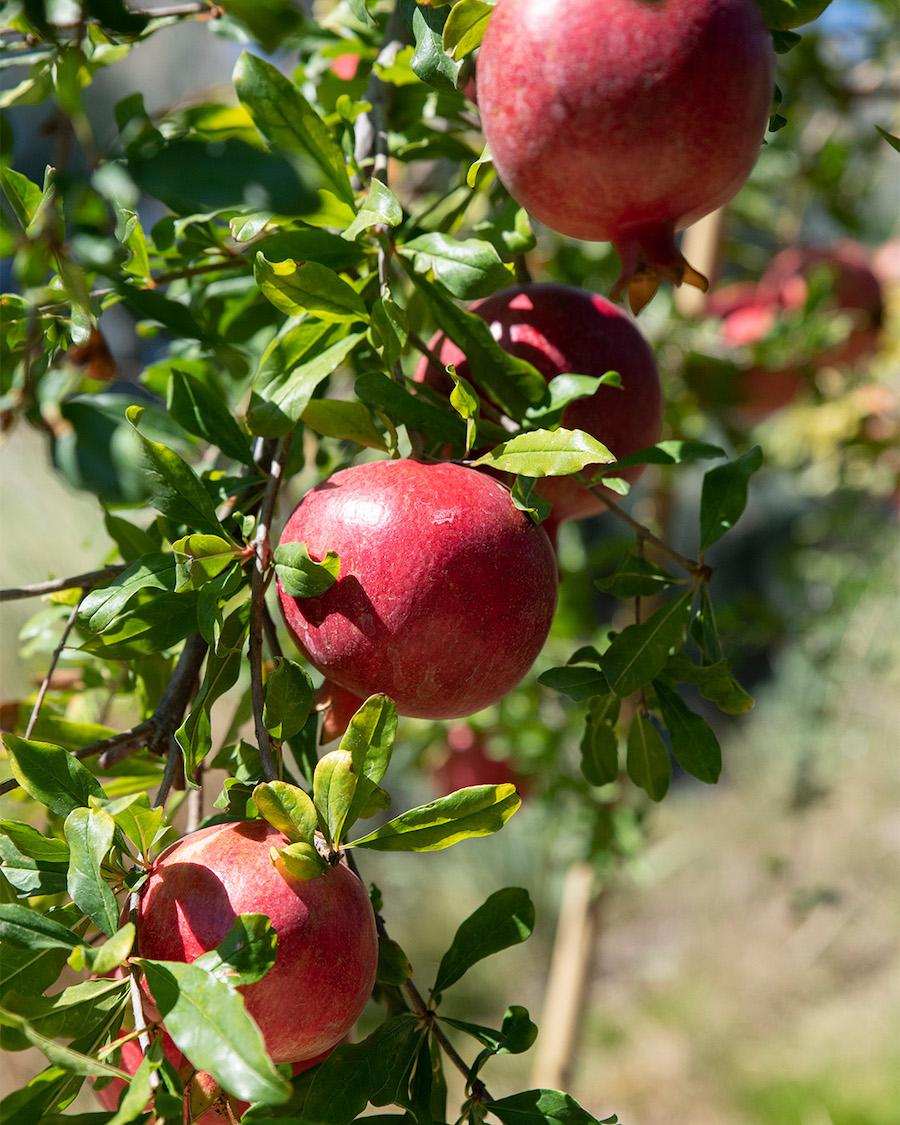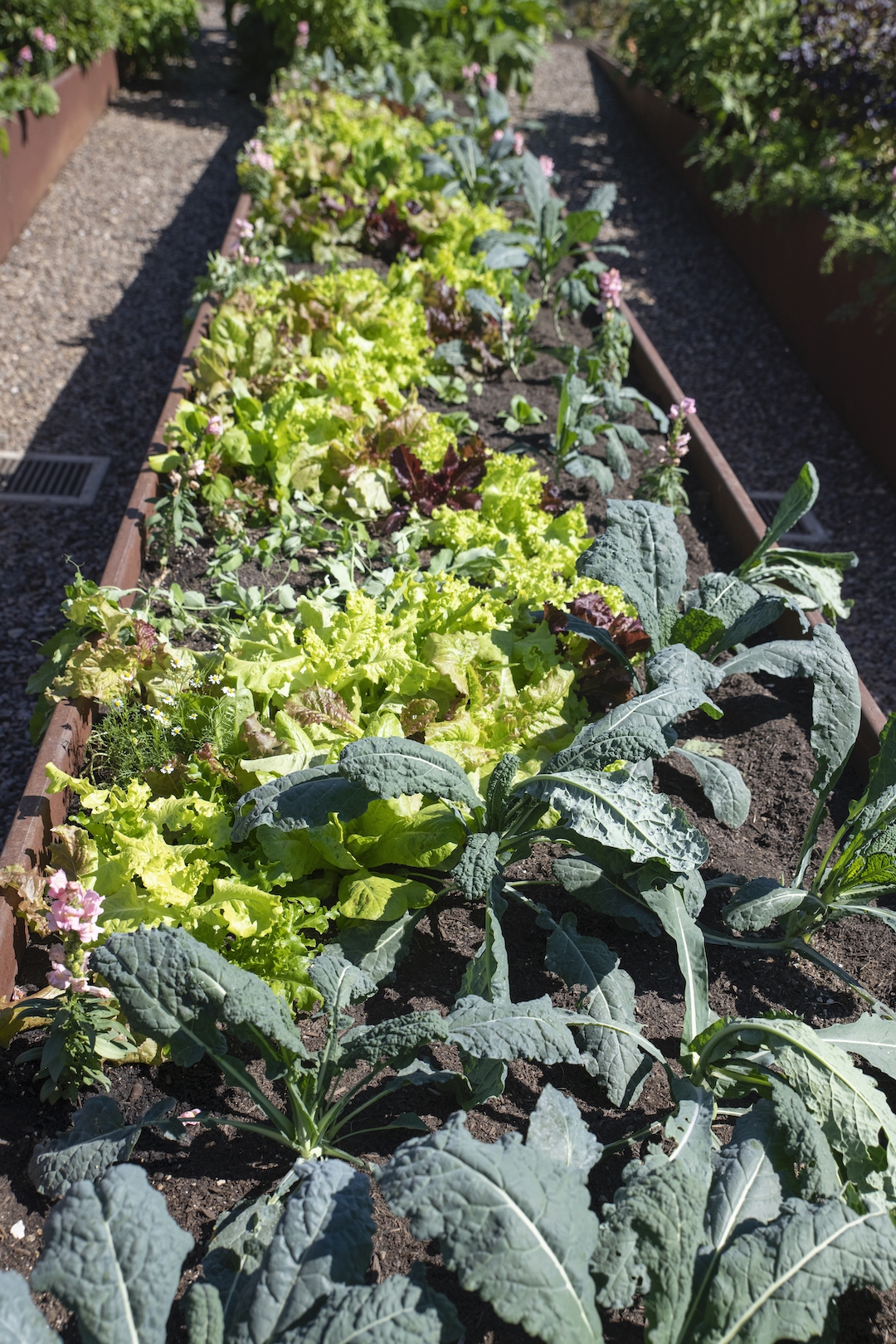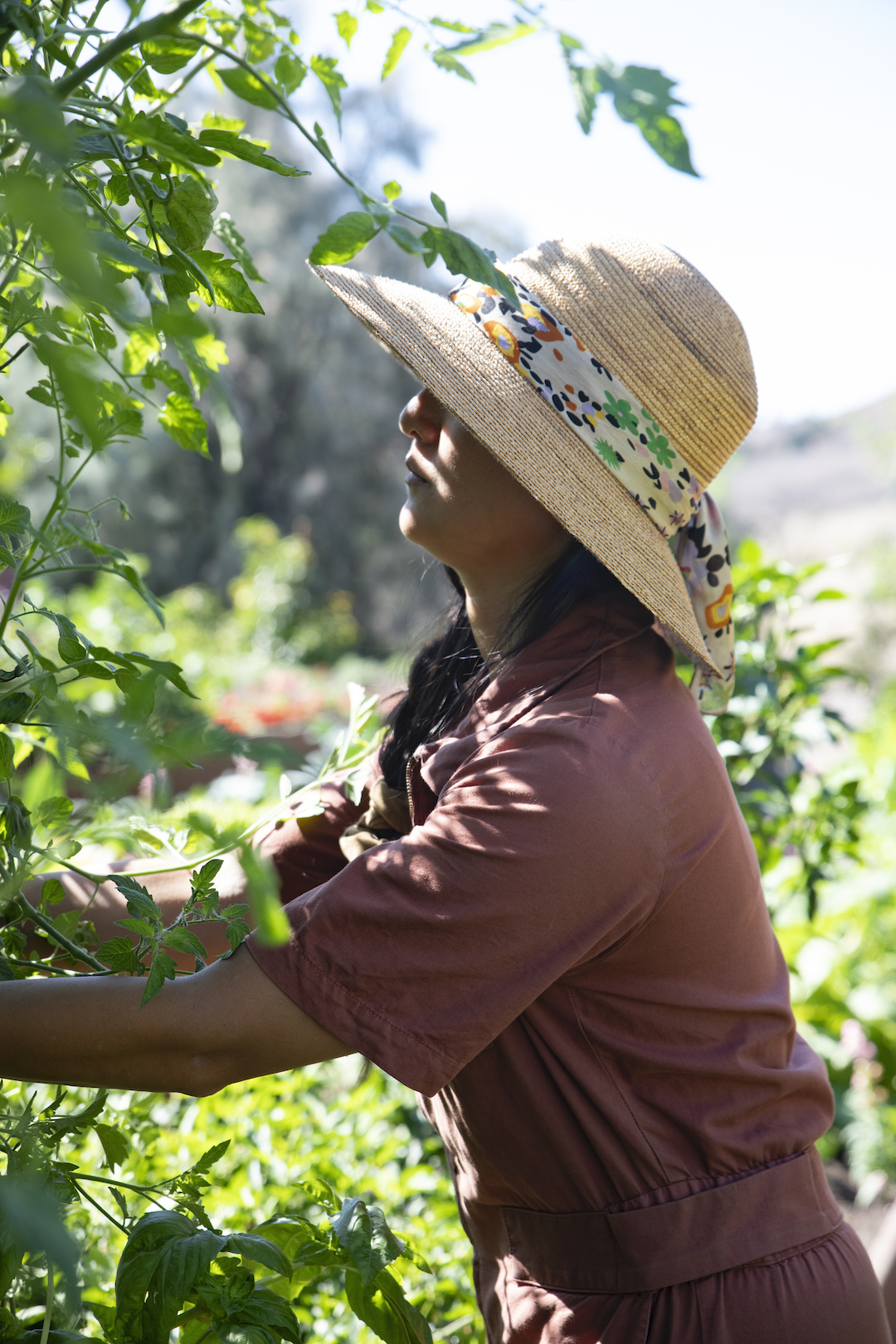 It may seem difficult in a drought to be climate-conscious, but Jad assures us that modes like companion planting for organic, integrated pest management do make a positive climate impact: "For instance, we plant basil and tomatoes together, because the pungent aroma in the basil helps keep harmful insects out. You will also see native and edible flowers in the garden to attract beneficial insects."
"Another important practice is ensuring high-quality soil. As with a lot of urban soils, the soil on the hill was depleted when we first tested it in 2019. By rebuilding soil organic matter and restoring the degraded soil biodiversity, we have transformed the hill into a fertile orchard and garden, teeming with life," he adds.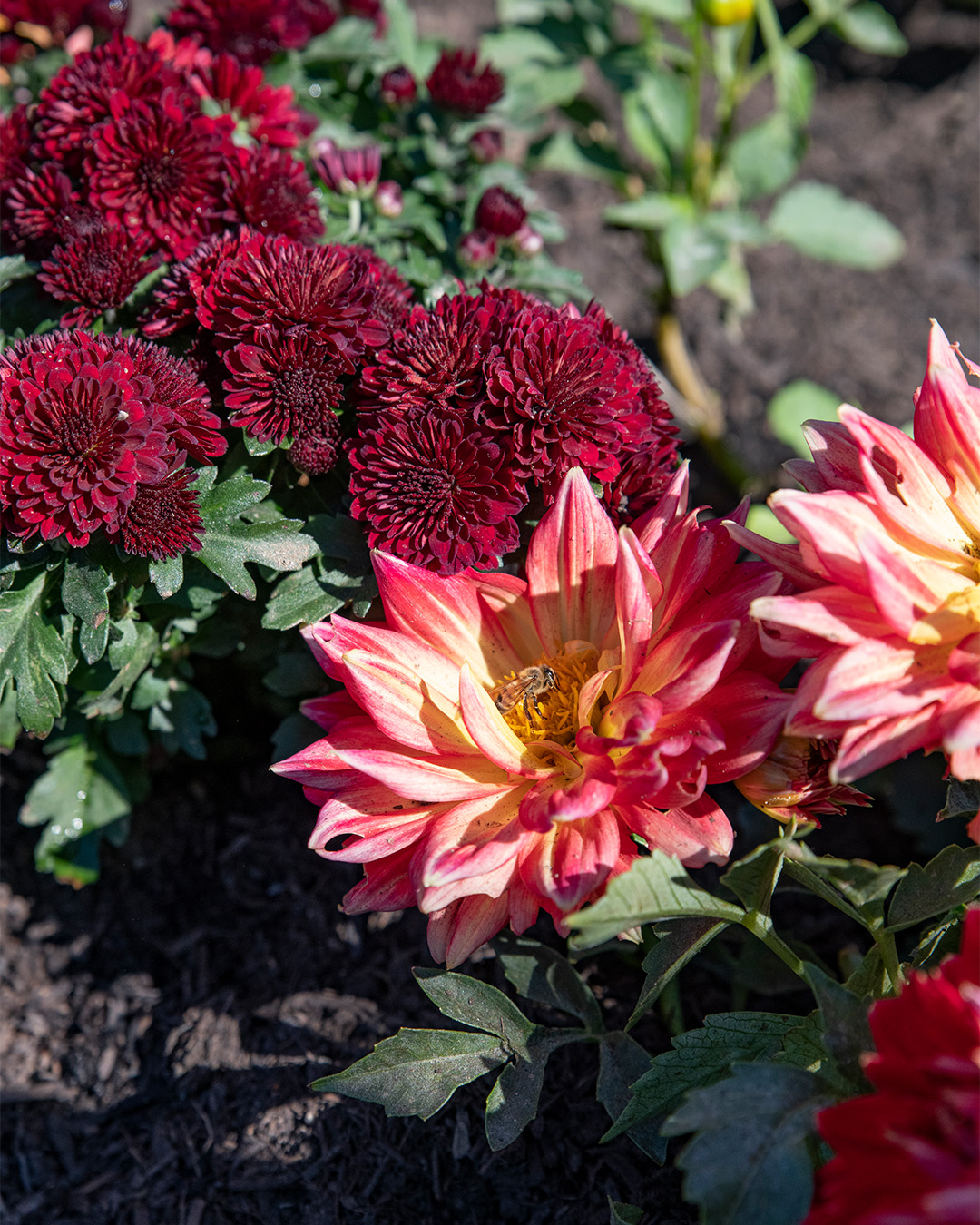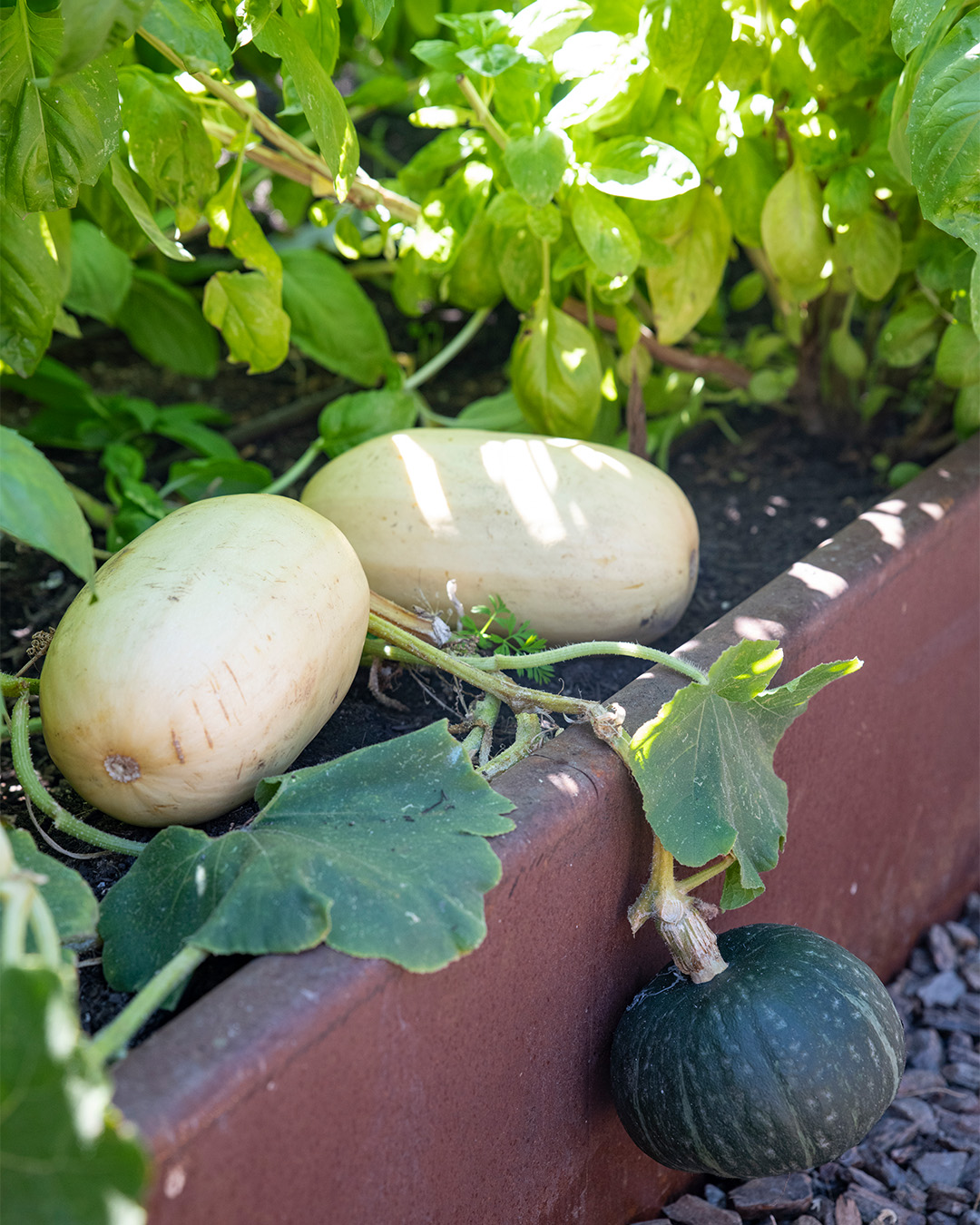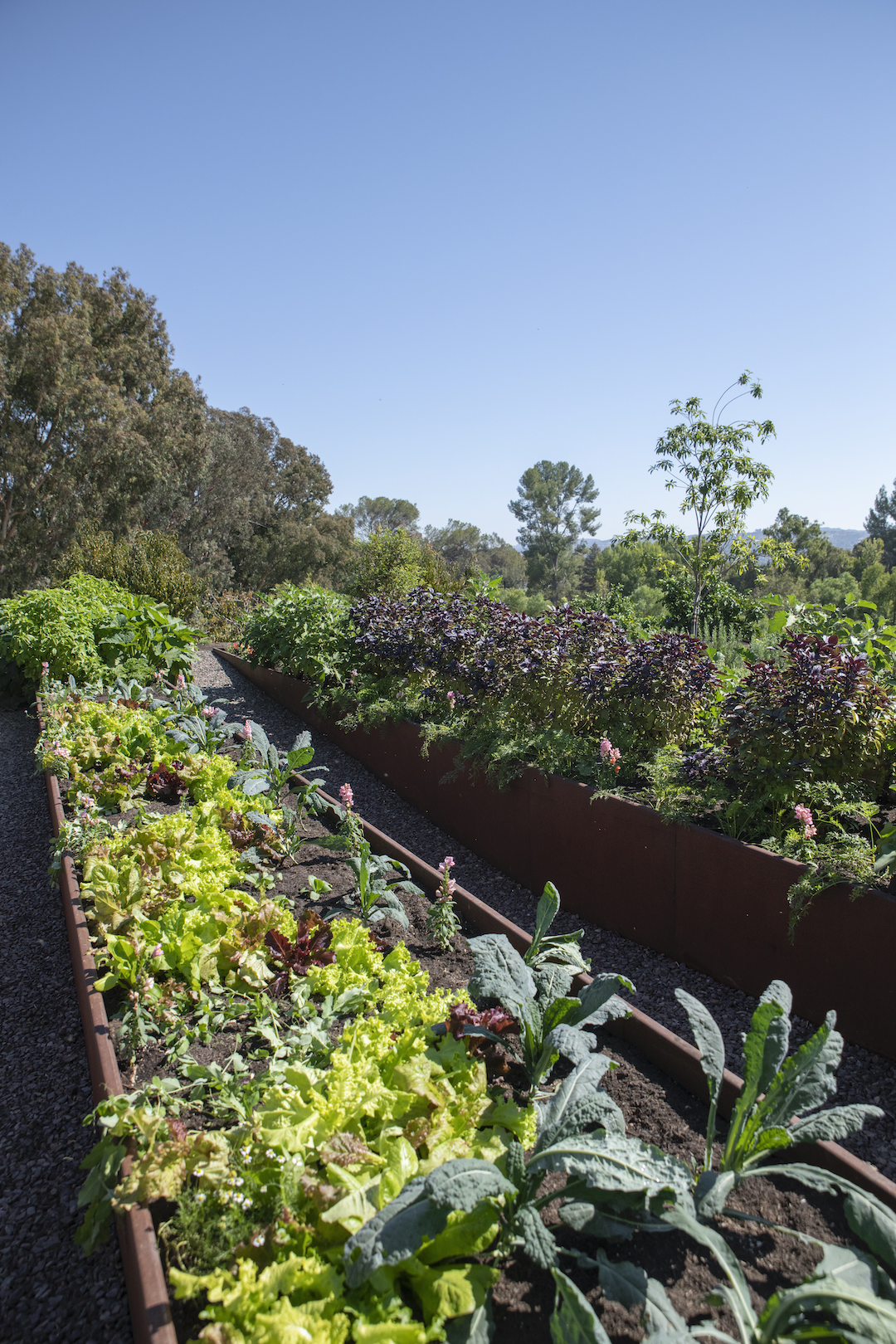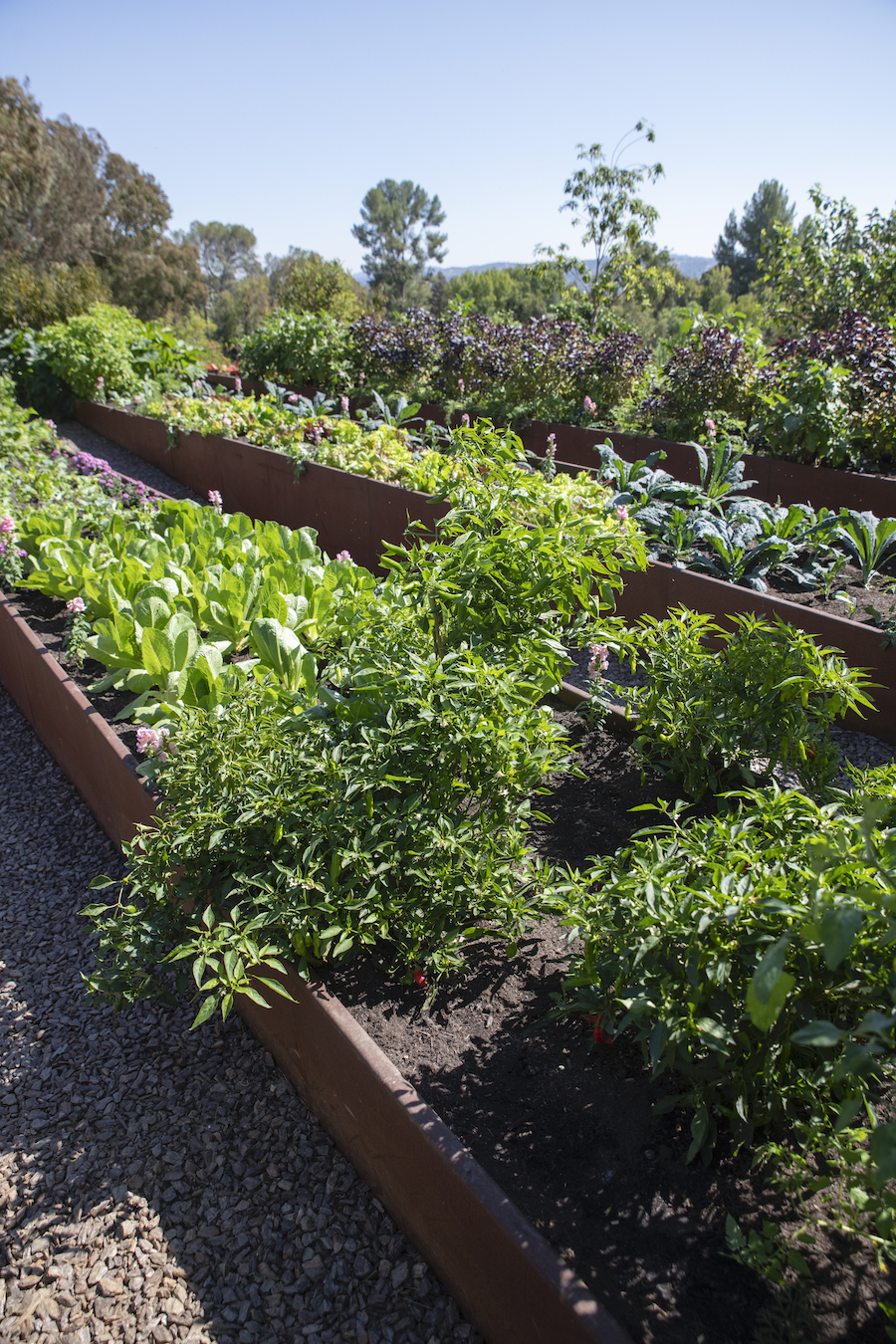 And teeming it is. From bountiful beds burst speckled lettuce heads and ruby-stemmed Swiss chard. Butternut and kabocha squashes tumble over, and over-eager basil plants of green and purple wait to be pruned. Bright pink dahlias jump out to greet the east-facing beds—did you know they are edible? Petals, roots, and all. Shishito peppers and Japanese eggplant proliferate beautifully.
But the garden far from begins and ends at the beds. Lining the rows of vegetables are artichoke cardoon patches. Strawberries and blueberries stud the perimeter, winding down into the meadow paths to be discovered like jewels in the spring. Juicy donut peaches, nectarines, avocados, and succulent Valencia oranges provide shade for native shrubs. Intriguingly striated pink lemonade lemons perch near both red and white pomegranate trees, dripping with enormous fruit. A large, fruiting olive tree creates a cool respite below from the sun above. There are also unique, sub-tropical varietals of guavas, like tiny red strawberry guavas, and java plums, which are not really plums at all but dense, astringent fruit originally from India, frequently used in soups and stews.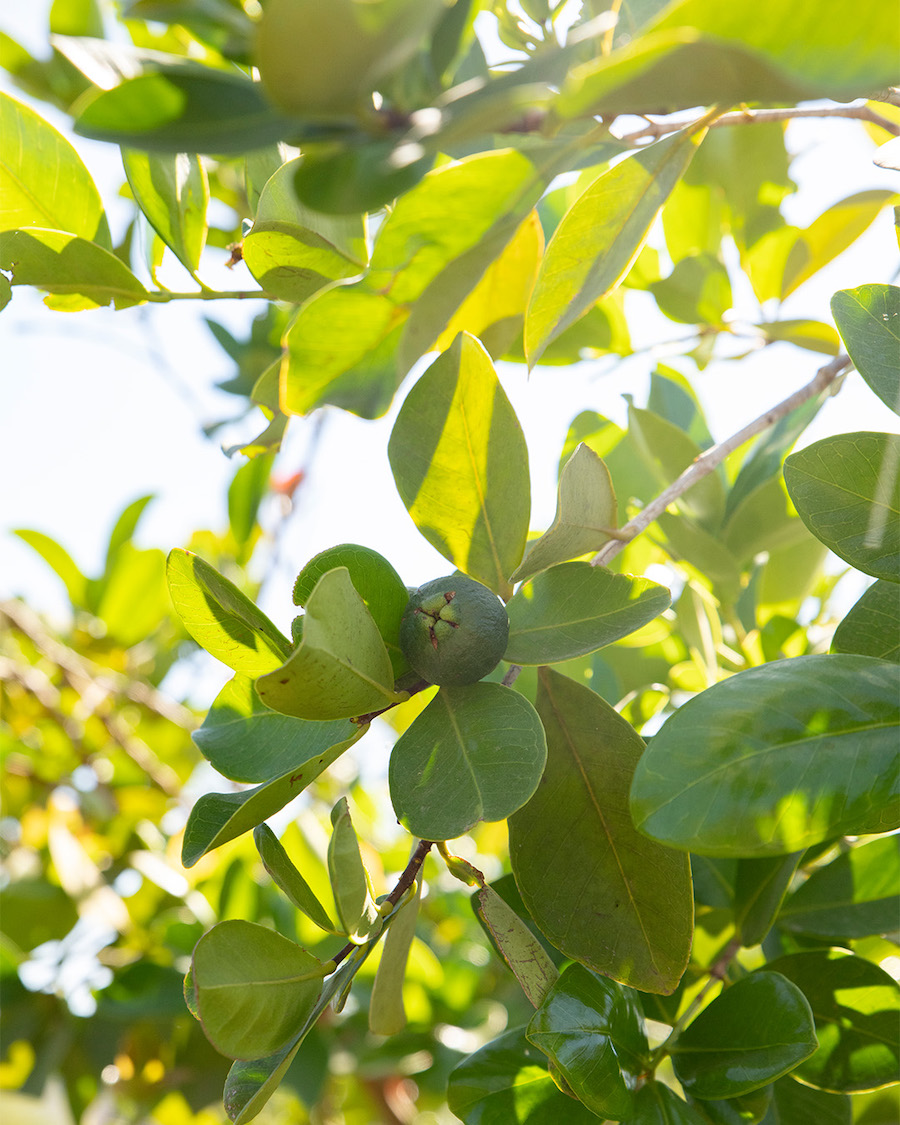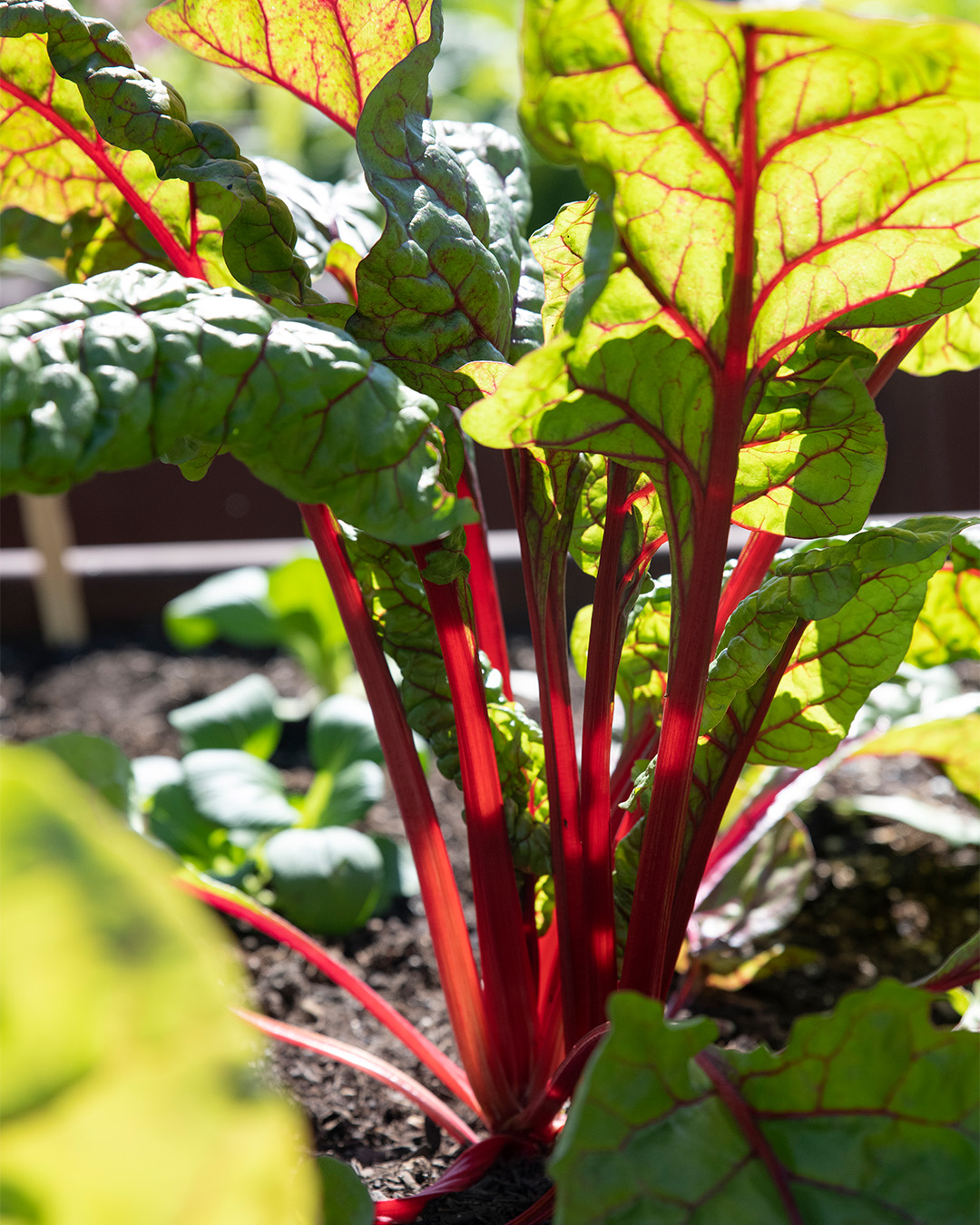 Whether you need to harvest a carrot, pick a peach, snip some herbs, or spot a butterfly, the meadow's switchback path is cushioned with soft grass and beckons bare feet. The garden feels like an oasis atop a hill and a perfect escape.
For more BTS content, take a peek inside Kim's walk-in fridge and Kendall's high-vibe bedroom sitting area.